"Art of Alaska and the Pacific Northwest Coast"
"Blaine Billman-Step Into His World"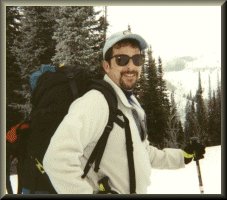 Growing up in a military family gave me the opportunity to experience many other cultures first hand. My parents always had a deep respect for other nationalities, their histories, and their cultures which meant a lot of traveling to new places and seeing new things. Looking back, I'm amazed at how profound some of those influences were on my life including many I wasn't aware of at the time.
After graduating from Oklahoma State University in 1978, I took a teaching position in Idaho. I had been working with pen and ink all through college and could not shake my fascination for that medium, so a few years later I gave up teaching to pursue my main interest in life-drawing.
I've always felt at one with the outdoors and love to hike, canoe, and backcountry ski. Living in Idaho has given me a deep respect for nature and its creatures and I have spent many wonderful times watching, learning, and photographing everything I could about the subjects I would draw. It's no wonder that nature themes dominated my drawings for some time but there were always other ideas that I filed away inside, things that I guess I just wasn't ready to do yet.
I spent over 10 years on the road (most of it during the 80's) exhibiting at galleries, art festivals, wildlife art shows, you name it. Whew-did that ever wear me out! I needed a good mental health break to enjoy this wonderful state, spend a little more time with my friends, and get some of those other ideas out of my head and on paper. I began working on a number of figure drawings and abstracts and it was during this time that my interest in northwest coast totemic art began to emerge.
I've spent a great deal of time along the pacific northwest coast-researching the cultures, getting ideas, and meeting other artists-basically learning as much as I can. When basing your artwork on native cultures it's important to treat your subjects with respect and this premise is one that I always try to follow. I love the northwest coast. It's spirit and cultural heritage are unlike anything I've experienced before and I find everything about it most inspiring. It has led me into areas of artistic expression that work quite well with all of my previous experience.
My life had been driven by my artwork for the better part of 20 years and it had pretty much been a solo trip until recently when I met the best person to ever come into my life - my wife Sue. It's amazing how terrific life can be when you're sharing it with the one person you were meant to share it with. She is my "moon and stars".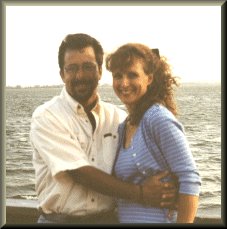 Let me introduce you. Sue's the gorgeous one on the right. She's originally from Richmond, Va. and is a network administrator for Novartis Seeds Inc. She is a terrific gardener and pianist, loves sports and the outdoors, and is a very creative person. As if that weren't enough, she's also the mother of two wonderful kids who you'll meet in a moment. It didn't take long for me to realize that I wanted to see her smile for the rest of my life so we got married this past September. Lucky me!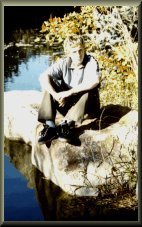 Luke is the oldest and is a freshman at Boise State University. He has an amazing range of interests including soccer, downhill skiing, skateboarding, and a new sport-scootering. We've seen him race downhill on the scooter and it's pretty incredible. He's really into "ska" music and so far hasn't croaked from the stuff Sue and I listen to.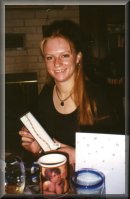 Here's Lyndsey on her 16th birthday. She is as sweet as her smile and has an artistic soul. She is so creative, insightful, and sensitive and uses those qualities to write the most wonderful stories and poems. Don't let that fool you though because she can tear you up on the volleyball court. Lyndsey's a junior this year and plans on a teaching career one day. With her warm heart and sharp mind she'll be a great one.
Thanks for taking an interest in my world. I hope you will enjoy visiting the galleries of this site and should you have any questions or comments whatsoever, please let me know.
Home

Totem Art Gallery

Wildlife Art Gallery
Biography

Art In Progress

Techniques

Northwest Stories

Kudos
Ordering

Contact Us

Links

Specials